Meet the team
Adam Plocher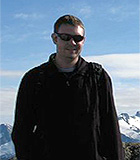 Adam is a Software Consultant and Engineer working in the Northern California area. He specializes in Microsoft and open-source software development and has over 13 years of professional experience.
As a child he had a passion for computers and software development. In his early teens he began writing software in Pascal, C/C++, and Delphi and later moved on to web-based languages such as ASP.NET, HTML, JavaScript, and PHP.
Over the last decade, he has become an expert with web, desktop, and mobile platforms, primarily using Microsoft-based technologies, such as .NET, ASP.NET MVC, and Transact-SQL. To represent his passion for gaming, he is currently doing game development using the Unity3D platform.
When he's not coding, he likes to spend time with his wife and puppy.
Alejandra Plocher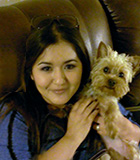 Alejandra has been passionate about computers and programming since she first played "Gorillas" and "Nibbles" with QBASIC on a 386 PC with Windows 3.11.
With her Bachelor's Degree in Computer Systems (UABC), she was able to put her passion for software into action. She has worked with .NET since it's early days, although she also has played around in the open source world. Her specialty has been to work with third party APIs, anything from devices (signature pads, inclinometers) to becoming an expert with various ERP systems (Sage MAS 200, NetSuite).
Besides being fluent in C# and ASP.NET, Alejandra is also fluent in English, Spanish and working on adding Italian to the mix. Currently, she is trying to get her hands dirty with mobile app development and is pursuing a deep understanding of SQL Server execution plans and internals.
Claudia Herrera Navarro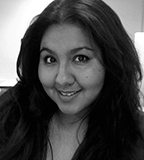 Claudia is a highly-ambitious and creative team member here at BitCollectors. She specializes in helping businesses find their corporate identity through the design of logos, business cards, websites, and various other marketing materials. She possesses a Bachelor's Degree in Graphic Design from UABC (Universidad Autónoma de Baja California).
Her favorite tools include Photoshop, Illustrator, InDesign and Sai. Claudia is fluent in English and Spanish alike and you can find her work worldwide in countries like USA, Mexico, Australia, Jamaica, Palestine and the Pacific Islands.
In addition to helping companies with branding, she is also passionate about photography and web design.